Renewable Energy Initiatives
Nageshwara Charitable Trust (NCT), Nagpur is a Trust registered under Mumbai Trust Act 1950. NCT is associated with NABARD since over 16 years and is successfully implementing various programmes of NABARD such as SHG-Bank linkage, Micro Enterprise Development Programmes, Tribal Development Projects, Farmers welfare and crop yield enhancement programmes, watershed development projects etc in Vidarbha region of Maharashtra, Madhya Pradesh and Chhattisgarh.

While implementing various projects/programmes in rural areas, NCT has taken up various environmental conservation initiatives, mainly that of mass plantation through women SHG members and farmers. NCT is implementing a very ambitious Wadi programme for NABARD, under which over 22000 tribal households are supported for developing a one acre orchard on their available wasteland. 60 fruit bearing plants are planted and nurtured for a period of 7 years, until the tribal, mainly BPL household gets a sustainable income out of this tree based livelihood programme of NABARD. The second major initiative which NCT propagates and supports is that of use of renewable energy, mainly that of solar energy and Bio-Gas. NCT has supported several solar energy initiatives in association with TERI and is propagating Bio-Gas use in rural areas.
NCT believes in "Practice what you preach" and hence has started two major renewable energy initiatives and invested on it, facing difficulties in arranging funds for the same.
1} Electricity through Solar PV Roof-Top System: NCT has installed a 10 KW Solar Photovoltaic grid connected Roof Top System at its office. The system was installed about 10 months ago and the MAHADICOM took 10 months to provide the net-metering system. NCT may be one of the very few customers in Nagpur city who have installed and grid connected solar system. This solar system generates around 14000 (Average 40 units per day) units electricity annually. NCT has tracked its total in house consumption of around 8000 units annually. Now, NCT has been able to manage all its office equipments, including air cooling and air conditioning appliances on green energy which is produced by its own Solar PV Roof-Top system. Even after fulfilling the office electricity consumption requirements, NCT will able to sell around 6000 units of electricity to the Electricity distribution company. By this, NCT is propagating and encouraging the common mass to adopt solar energy generating system and contribute to the energy needs of the country.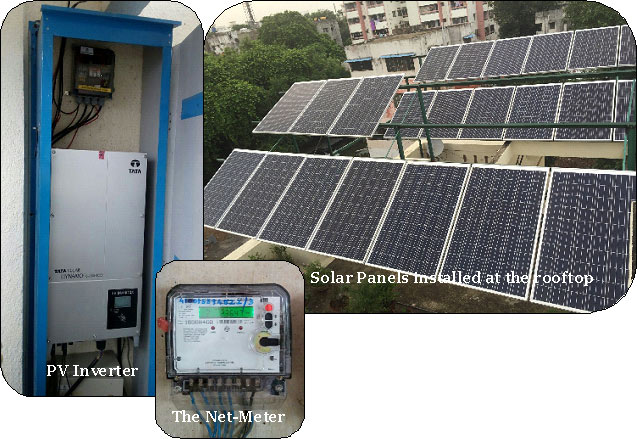 2} Environmental Friendly Bio-Gas unit in Agriculture Knowledge Centre:- NCT's Trustees with their vast experience of implementing various agriculture projects have developed an Integrated Agriculture Farm & Agriculture Knowledge Centre (AKC) which is situated at Raulgaon village of Katol Block of Nagpur, Maharashtra, about 30 Kms from Nagpur city on Nagpur-Katol road. NCT is providing demonstration cum training to the farmers in AKC. This farm provides unique opportunities for the farmers/ students to learn the innovative agriculture & renewable energy practices. A Biogas plant of 2m3 Capacity has been set up in the farm, in order to reduce global-warming by using methane as cooking gas as well as using of manure as an organic fertilizer. The families working and staying on the farm premises are using this Bio-gas as fuel for cooking. By providing free cooking gas, burning of fire wood has been completely stopped and at the same time removed/reduced the drudgery of women farm labourers, which is one of the main objectives of NCT.