"VANAMRUT" A Project By Nageshwara Charitable Trust (NCT)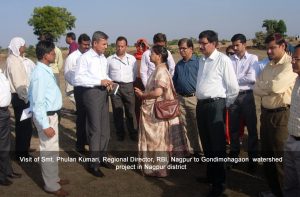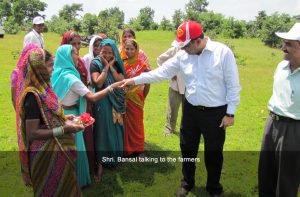 MAJOR ACTIVITIES UNDERTAKEN BY THE TRUST DURING THE YEAR:
I. NABARD Supported Projects
7. "VANAMRUT" A Project By Nageshwara Charitable Trust (NCT)
"VANAMRUT" A unique project by Nageshwara Charitable Trust (NCT) for (1) protecting the environment (2) providing income generation opportunities to the tribal communities of the region and (3) enhancing the farm out-put of the Region
Background:NCT, during 1998-2001 had trained over 500 tribal artisans (Traditional Honey hunters) in scientific method of wild honey collection, in association with the Project Officer, Integrated Tribal Development Project, Nagpur, Pandharkawda, Dharni, Kinwat, Chandrapur, Chimur and Gadchiroli. Tribal Development Department, under its Nucleus Budget and Centrally Sponsored prgrammes, has supplied honey collection kits to all the tribal beneficiaries through NCT. NCT was helping these tribals to sell their honey in local market. However, due to low price offered by the local traders, the tribal artisans were not much interested in collection of honey. Hence, providing a sustainable marketing was a missing link.
NABARD's Support: NCT had discussed with NABARD, the above activity and about the 'missing link'. NCT wanted to set up a Honey processing unit in order to support the tribal artisans. The matter was discussed with Dr.VenkateshTagat, then the CGM, NABARD during his visit to Nagpur. The CGM asked NCT to submit a proposal covering all aspects. A detailed presentation was given before a high level committee at NABARD H.O on 24.10.07. A high level delegation of NABARD and Kfw development Bank comprising of Mr. Gunther Haase, Dr. Marcus Stewen, Mr. NandKishorAgarwal and Shri. S.Padmanabhanhad visited the tribal villages on 15.11.07, where the honey is being collected using new technology.
Subsequently, NABARD sanctioned a soft loan of Rs.15.15 Lakhs and grant assistance of Rs.3.85 Lakhs under its Umbrella Programme for Natural Resource Management (UPNRM) for setting up the Honey processing unit and for working capital. Theinitiative is implementing smoothly since 8 years involving over 500 tribal beneficiaries.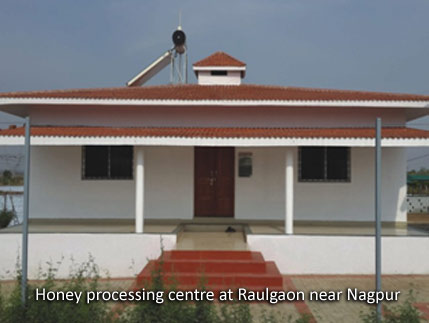 To Save honey bee from ruthless burning by the traditional honey hunters by providing new technology in order to preserve the hive for further harvesting of honey, protection and enhancement of bee population which is useful for cross pollination, avoiding pollution caused by fire and maintaining eco-balance.
To provide opportunity for sustainable income generation to the tribal beneficiaries living below poverty line who have already been trained by the Trust in rock/wild bee honey collection.
To form Village level committees/groups and establish federations of rock bee hunters and to upgrade their skill and convert them into successful entrepreneurs.
To establish low-cost honey-house facilities (storage, processing, filtration, bottling, packaging, forwarding) with the involvement of Honey-hunting tribal artisans' federations for fairer backward and forward linkages of marketing of honey-wax gathered by the trained honey artisans.
To implement socio-economic and socio-welfare activities through the suitable concept of 'Federation' for all the trained beneficiaries.
New method of Rock bee Management:
In this method, the tribal, traditional honey harvester wears a protection dress, specially developed for this purpose and climbs up to the hive using nylon rope. He then isolates just a 'bulky part' containing ripe honey with the temporary evacuation of bees' curtain from each accessible nest to isolate raw honey-wax. By doing this, all the operated (harvested) nests remain intact to substratum with the creation of window-like hole. All the evacuated bees re-settle on their combs by next morning. Here, it is interesting to note that the 'window-like holes' of honey chambers are rebuilt and refilled with honey in the next 25-30 days to enable the subsequent harvests. In the second harvest, more honey (2-3 kg per nest) is obtained as compared to the first harvest (1-2 kg). In each blooming season, about 2 to 3 harvests are possible. In this manner, neither adult bees nor their nests are destroyed at any stage of their breeding cycle. Owing to this, the parent colonies multiply safely to add new daughter colonies in the nature which eventually enrich bio-diversity with augmented honey and Honey wax productivity.
Storage, processing, packaging and marketing of honey:
An arrangement of low-cost mini-honey-house is set up at 35 Kms from Nagpur. The processing house is also constructed under NRM concept. Fly ash bricks are used for the construction of the building, solar energy has been utilized for processing and other lightings, and water conservation method has been adopted to save 100% roof water. Here, the harvested honey is stored safely in coated GI containers and processed in an instrument similar to water bath at 55o C for 2 to 3 hours. It helps to diminish the growth of 'osmophilic yeast'. Then the warmed honey is filtered through a fine nylon filter bag so as to allow the maximum pollen grains in filtered honey. The processed honey is packed in the clean & dry glass bottles of different pack sizes and marketed locally or in the nearby big cities under the brand name 'Vanamrut'. NCT is selling about 8-10 tons of honey every year.