Agriculture Knowledge Centre (AKC) Or Krishi Gyan Kendra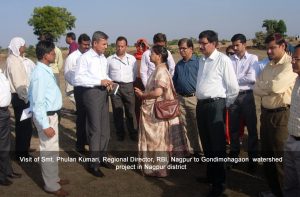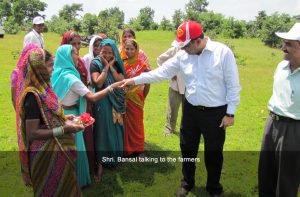 MAJOR ACTIVITIES UNDERTAKEN BY THE TRUST DURING THE YEAR:
II. Project Supported by Central and State Government Departments and Banks & CSR
3. Agriculture Knowledge Centre (AKC) Or Krishi Gyan Kendra
NCT is involved in welfare of farmers and crop yield augmentation initiatives since 2005. It was a continuous endeavor of the Trust to support the farmers in adoption of new technologies / methods, while maintaining / continuing the traditional farming methods. NCT felt the need of demonstration and training of farmers for both new technology adoption and traditional methods. NCT's Trustees with their vast experience of implementing various agriculture projects have developed an Integrated Agriculture Farm & Agriculture Knowledge Centre which is situated at Raulgaon village of Katol Block of Nagpur, Maharashtra, about 30 Kms from Nagpur city on Nagpur-Katol road. This Farm could provide unique opportunities for the farmers/students to learn the innovative agriculture practices like use of drip and sprinklers, protected farming using green houses and shade-net houses, preparation of organic manures, dairy management, Azola cultivation, Integrated Pest Management, proper nutrient and micronutrient management, use of solar energy, water conservation, rain water harvesting and many more agriculture technologies. 
NCT has also constructed an Agriculture Knowledge Centre (AKC) at this place, where farmers can stay for day or two and learn various farming methods. The AKC was inaugurated by Dr. Harsh Kumar Bhanwala, Hon. Chairman of NABARD on 24/02/2015. He praised the efforts made by NCT in establishing the centre and several activities in one centre. In 2017-18 year, around 300 students of CDS School, Nagpur and 500 farmers from different locations of Central India have visited to the AKC and got exposure on different modern & tradition agriculture practises.
Following activities / initiatives are available for the farmers to see, learn and replicate:-
1) Vegetable cultivation using drip irrigation & precision farming methods.
2) Multi-Cropping methods.
3) Water conservation and rain water harvesting.
4) Automated water management system using Drip-Automation.
5) Vegetable cultivation and floriculture under hi-tech Poly houses and Shade-net houses, use of sprinklers and foggers to maintain required humidity and temperature to create conducive atmosphere for vegetable cultivation & floriculture.
6) Improved dairy activities with proper cow shed, mechanized milking machine, Hydrolic Fodder Machine, use of chop-cutter, collection and use of cow-urine through drip system, Packaging of Milk, etc.
7) Various types of compost preparation such as compost pit, NADEP, Vermi-compost, Vermi-wash, Amrut jal etc.
8) Apiculture
9) Azola cultivation as Nutrient rich fodder for dairy animals
10) Fodder development & Management
11) Use of solar energy
12) Integrated pest management
13) Horticulture crops such as excellent varieties of Guava, Papaya, Custard apple etc